This project was located in the Highland Estates neighborhood in Papillion, NE. When these clients contacted us, they had an outdated, worn, and unsafe outdoor living area. They wanted to renovate their backyard and swimming pool into a resort-inspired space. So, we met with them and discussed their comprehensive wish list of a paver pool deck, outdoor kitchen, custom stone pool slide, sun shelf, a space for a hot tub, fire pit, and designated drop zone landing off the patio door. Then, we worked with them to help them upgrade the pool liner, pumps, and equipment before working to check off each item on their list. One by one, we installed the features and used complementing materials for a comprehensive flow throughout the space. Finally, we completed the project by adding landscape lighting and plantings to keep everything bright and vibrant!
---
First, we helped them upgrade the pool and installed the paver deck, outdoor kitchen, and custom stone slide.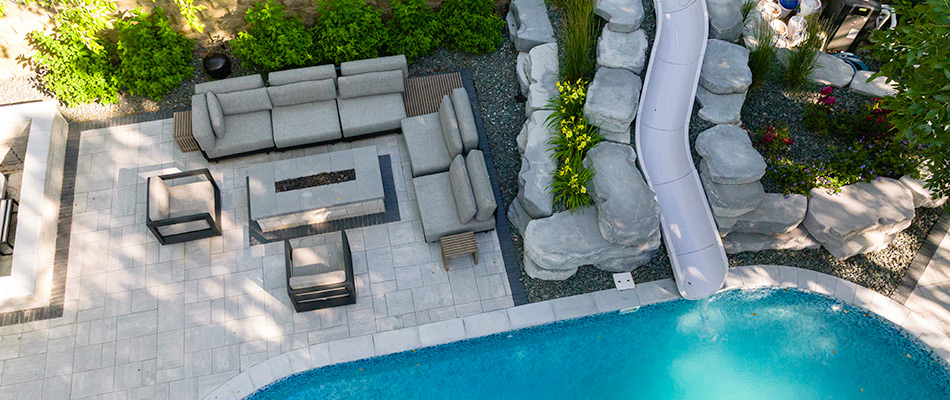 Before we installed the new additions, their existing pool has to be upgraded. It was about 30 years old, so we worked with a pool company to replace the old, punctured liner and upgrade the pool equipment and pumps. Then, we removed the original plastic pool coping and installed a new paver coping around the edge. Once we finished that, it was time to begin installations.
First, we installed a paver pool deck using Unilock Beacon Hill Smooth three-piece pavers in the granite fusion color. For the banding, we used Unilock Copthorne pavers in the basalt color. Next was the outdoor kitchen, which we installed with a Napoleon grill and outdoor refrigerator, double access doors, triple storage drawers, an ice maker, and a sink. We wanted to make it more prominent with Unilock Beacon Hill Flagstone three-piece pavers in the Alpine Grey color, and we also built it in an "L" shape to give them enough room for cooking and seating. Then, we added a beautiful granite countertop to make it pop!
Once the outdoor kitchen was complete, we got to work on their custom stone slide. We wanted to make it look natural, so we added manufactured stone to the sides. That way, it hides the foundation and even opens opportunities for planting pockets! It also provides a great focal point from the house that looks like it's supposed to be there.
---
Next, we added the sun shelf, an area for the hot tub, a custom drop zone, and a fire pit.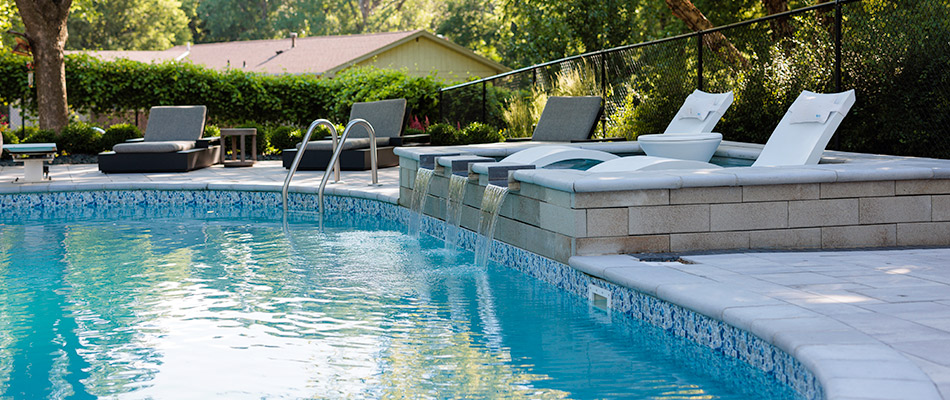 The next step of this project was to collaborate with the pool company about the sun shelf, which took some discussion and revising of the original plan to make it fit better into the current pool layout. In the end, we decided to elevate the sun shelf above the patio level and have it drain water into the pool. Not only does this make the feature more substantial and eye-catching, but it also creates a tranquil water-splashing sound.
After that, we added a 20-inch wall around the hot tub to create a sunken area. This wall gives it more of a built-in look, makes it easier to get into the hot tub, and provides additional seating. Next to it, we constructed a fire pit area that now serves as a destination spot for adults to flock to when the kids are in the pool. We also installed a gas-burning fire pit to make it easier to turn on and off. Lastly, our clients wanted a custom drop zone landing by the patio door. This landing serves as the perfect spot for a bench, where guests can sit to take off their shoes and drop dirty towels. This bench also has drawers for some additional storage outside.
---
Finally, we brightened their outdoor living space with landscape lighting and plants.
The final step of this project was to brighten their outdoor living space for nighttime use with landscape lighting. We added path lights on each end near the stepping stones. We also used under-cap lights for the steps, outdoor kitchen, sun shelf, sunken hot tub, and fire pit. That way, the entire area is radiant after the sun goes down! Finally, we added a few plantings to soften the landscape beds and provide stunning seasonal displays.
There are several outdoor lighting options, such as color-changing systems, to create a vibrant, colorful display for your outdoor living space!
---
Project Gallery
---
Want to create the outdoor living space of your dreams? Give us a call to schedule any of our landscaping services.
If you're ready to create the outdoor living space of your dreams, we are the company to call. At UPL Inc, we offer various landscaping services, including outdoor kitchen installations, fire pit installations, patio installations, and much more. All these services are available to property owners in Papillion, NE, and throughout the surrounding areas, including Omaha and Elkhorn. Give us a call today at (402) 590-2040 to schedule any of our services.