Professional Landscaping Services in Bennington, NE
We create hardscapes that are custom-made to suit your needs and desires!
Bennington is a humble city located in eastern Nebraska, just a handful of miles away from Omaha. This gives it all the rustic small-town charm to warm your heart while being in convenient proximity to big-city amenities. You can spend the weekend lounging in the fresh air at one of Bennington's many parks or take a day trip to visit the Omaha Zoo, Joslyn Art Museum, or shop at the Village Pointe Shopping Center. Whatever you do, you can return to your slice of paradise in Bennington afterward!
We believed that a population with such charm deserved the best landscaping services in the business, so that's what we offer to property owners in Bennington and nearby areas! Our services include patio installations, spring cleanups, and much more. If you're ready to start on your next project, call our team at (402) 590-2040 today to get your quote!
---
We can design and install custom lighting, outdoor kitchens, softscapes, and more.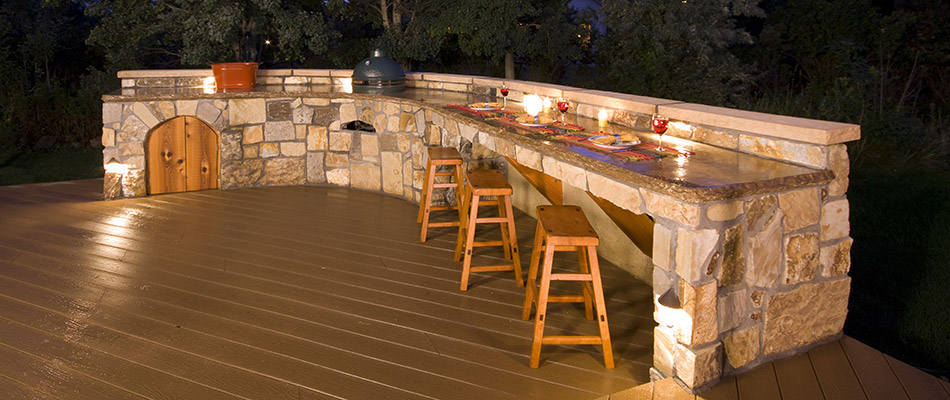 Our team can construct patios of all shapes, colors, and sizes to create a design that is perfectly suited to your landscape!
To help the flow of traffic around your property, we can build walkways and outdoor steps that increase safety and help keep foot traffic off of your turf.
Make the best first impression by installing a new driveway! Our driveways are constructed out of durable and beautiful pavers.
We can create a custom outdoor kitchen, adorned with amenities like a grill, refrigerator, wine cooler, and even a pergola!
If you'd like just the pergola – hold the kitchen for now – we can do that too. We offer both wood and metal pergolas!
Our team will illuminate your property with landscape lighting using high-quality LEDs. We even have an option to install color-changing lights with all the colors under the sun available!
Whether you want to install something new or renovate what you already have, our plantings and softscapes are top-tier and will add the perfect finishing touch to any hardscaping project.
Our retaining and seating walls can help resolve sloping issues or provide extra guest accommodations, and we can even build them with columns, pergolas, lighting, and more.
We also offer drainage and grading services to help with water flow issues on sloped properties! We can install gutters, French drains, catch basins, rain gardens, and more.
Our team installs water features like bubbling boulders and other accents as well as fire features including fire pits, fireplaces, and fire tables.
---
Our team will make your property pristine with our landscape maintenance services.
We offer plant trimming and pruning with a focus on encouraging good health in your landscaping plants while making them look great, too!
Our team can replenish your landscape beds with fresh mulch that is available in color options like cocoa, black, and more to spruce up your property.
We can also install rock for your ground cover. We offer many options, but Smoky Mountain river rock is one of our favorites!
To give your landscape a reset in spring, our spring cleanups focus on maintenance for your landscape beds and plantings with bed edging, top dressing with fresh mulch, selective cutbacks and pruning, and more.
Combat the autumn debris with our fall cleanups! We'll remove leaves from your landscape beds and edge, perform selective pruning, and can even add services including mulch installation, spring bulb plantings, and more.
---
Call our team today to schedule any of our expert landscaping services!
At UPL Inc, our greatest pride is in leaving properties better off than we found them. Our team has a thorough design and build process that ensures that with every installation, we are crossing our T's and dotting our I's. We're just as detail-oriented with our landscape maintenance services because we understand how important maintenance is to the overall aesthetic and health of a property. Our professional services are available to commercial, residential, and HOA property owners in Bennington, NE and surrounding cities. Give our office a call today at (402) 590-2040 to schedule any of our landscaping services and see your property transformed!