Our team provides landscape design and maintenance services for properties in Elkhorn, NE.
Upgrade your outdoor living space with our landscape design, installation, and maintenance services.
Elkhorn, NE is a suburb in Omaha that is home to friendly residents. It is named after the Elkhorn River, which played a large part in the town's development. Today, the Elkhorn River still plays a large part in the suburban community as it is a great place to kayak and spend some time enjoying the fresh air. This suburb in western Douglas County is a fantastic place for young and older adults to settle down.
Our team at UPL Inc provides outstanding landscape services for homes and businesses in Elkhorn, NE. We are your local experts when it comes to upgrading your outdoor living space with new hardscapes and softscapes. Some of the hardscapes we can construct include functional outdoor kitchens, calming water features, and cozy fire features. We also install softscapes and maintain the pristine condition of your yard with our seasonal cleanups.
---
Our professionals will help you customize and maintain your outdoor living area.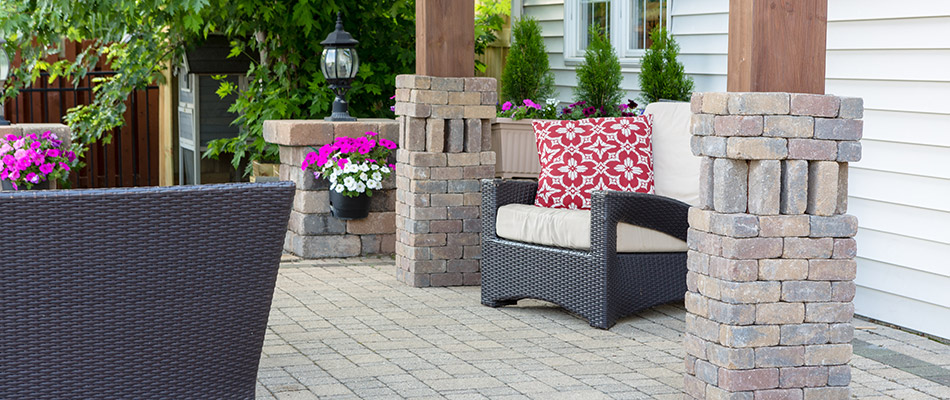 Whether you are starting your outdoor living area from scratch or upgrading your current yard, our professionals at UPL Inc will make your property in Elkhorn stand out. However, the key to having outstanding property aesthetics does not stop there. Maintaining and keeping your landscape neat and manicured is also critical. Let our team do all of the work for you! We offer these top-tier landscape services:
Plantings & Softscapes: Our team installs and renovates landscape beds where you can display your vibrant ornamental plants.
Patio Installation: We construct long-lasting patios using durable materials like pavers, so you don't have to choose between quality and design.
Walkways, Outdoor Steps, & Driveways: Installing these hardscapes will create a cohesive look for your property, plus it allows you and your guests to navigate their way around safely.
Retaining & Seating Walls: We build functional and decorative retaining and seating walls to increase usable space for additional features like fire pits, water features, and more.
Fire Features: The cold weather in Elkhorn, NE can be challenging, but adding warmth to your property with fire features can make it a bit more fun!
Outdoor Kitchens: We can use kits or create custom outdoor kitchens to make your outdoor living space more functional.
Outdoor Lighting: We use LED lights to illuminate your trees and other favorite landscape features.
Water Features: Whether you want a small water feature as an accent or a huge and elegant display, our team can install it for you.
Plant Trimming & Pruning: Scale back overgrown and diseased branches of your trees, shrubs, hedges, and boxwoods to ensure your plants are in great shape and health.
Mulch & Rock Installation: We install mulch and rock ground coverings to protect your plants from sudden temperature changes and to keep your landscape looking tidy.
Yard Cleanups: Your landscape will need to be cleaned up in the spring and fall to maintain its tidy appearance.
We also offer drainage and grading services, which involve installing downspouts, french drains, catch basins, and more.
---
Talk to our pros today to schedule our landscaping services!
Our team at UPL Inc is committed to providing outstanding results for homeowners and business owners in Elkhorn, NE. When you hire us for your landscaping project, you can rely on our love for our craft to translate into reliable results for your property. Call our pros today at (402) 590-2040 to schedule our landscaping services!