Exceptional Landscaping Services in Ralston, NE
Our team of professionals can perform spring cleanups, install pergolas, trim and prune plants, and more!
As soon as you enter Ralston, NE, you'll be able to sense the shift from busy metropolitan life to a small-town community with a big heart. This combination of close proximity to the big city of Omaha while keeping a tight hold on their small-town roots makes Ralston a city for the dreamers. With unique boutiques to shop at, museums to visit, and galleries to view beautiful art, you can always find something to do!
We provide top-notch landscaping solutions to the good people of Ralston, NE and nearby cities. Our services include plantings and softscapes, paver patios, retaining walls, fire pits, mulch installation, and so much more. Call our team today at (402) 590-2040 to get your quote!
---
Our Landscape Maintenance Services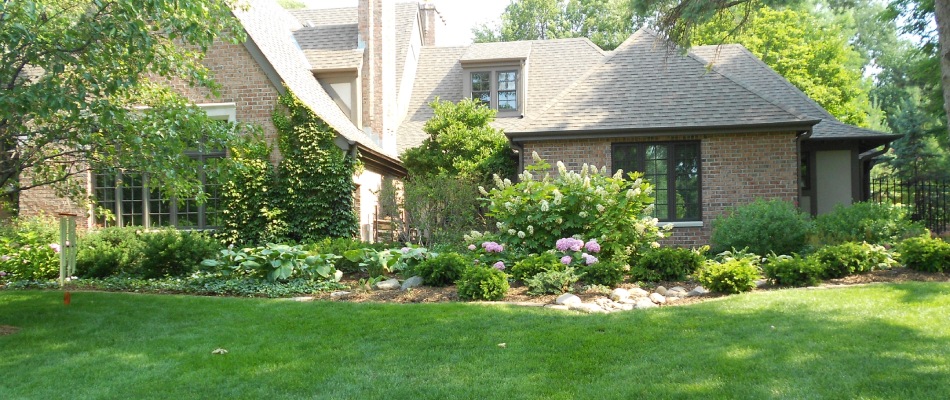 We care about every part of your landscape staying healthy and happy, which is why we offer landscape maintenance services! We offer plant trimming and pruning services with their best health in mind. We'll never prune a plant that doesn't need it or cause undue stress. We also offer spring and fall yard cleanups to help combat any buildup on your property. Our cleanups will focus on your landscape beds and plantings, so we'll edge the beds, top dress with fresh mulch, remove leaves and other debris, prune plants in need, and more!
We can refresh the rock or mulch ground coverin your landscape beds to rejuvenate your property.
---
Patios, outdoor kitchens, fire pits, and more – our team can design and install your vision!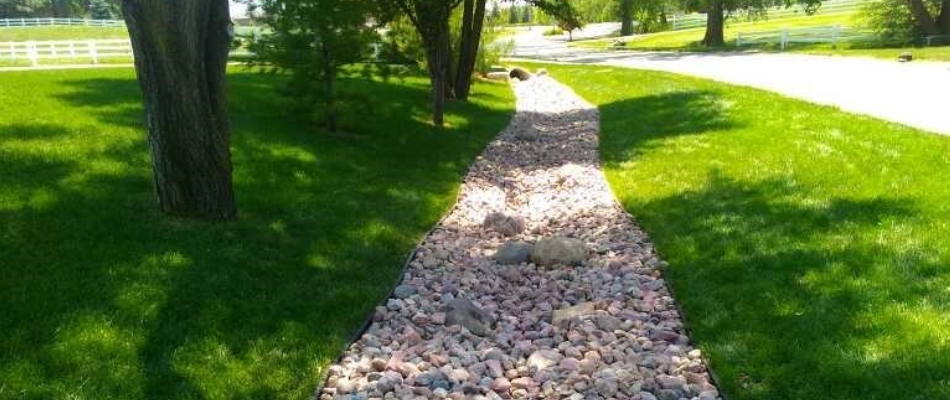 Our team of professionals can create the custom hardscape of your dreams! Our paver patios can be built in any size, shape, and color your vision calls for – the sky is the limit. And so that you can use your patio into the nighttime hours, we offer custom lighting solutions as well to illuminate your landscape and highlight the best features of your property. We can install walkways and outdoor steps as well for beautiful, durable pathways throughout your landscape.
For properties that have a challenging slope, our retaining walls are the perfect solution as they can create usable space where the slope once was. Our seating walls provide extra seating and will enhance the aesthetics of your property. Our team can also implement drainage and grading solutions like French drains, catch basins, dry creek beds, and more to help resolve water flow issues on your property.
Add a unique atmospheric element with our water and fire feature installations. We can design and install a fire pit, fireplace, fire table, bubbling boulder, and many other accent pieces to help your landscape come alive! Whether you want to bring in the warmth with a fire feature or create a soothing atmosphere with a water element, you can count on our team to get it done right.
Ever dreamed of a decked-out outdoor kitchen? We can make it a reality! Our outdoor kitchens can be built with amenities like grills, refrigerators, wine coolers, and even pergolas. And for a perfect finishing touch on any property, look no further than our plantings and softscapes. We'll utilize plants that are not only beautiful but well-suited to our area so that they will thrive.
Our team can design and build a custom driveway made from high-quality pavers that will wow your guests!
---
Call our team today to schedule any of our professional landscaping services!
We love what we do here at UPL Inc – transforming landscapes isn't just a job to us. It's our passion! That means we pour every ounce of energy into the projects we work on. We're not satisfied with anything less than an exceptional result, so you can rely on us to be meticulous and diligent about the work we do. Our services are available to commercial, residential, and HOA property owners in Ralston, NE and surrounding cities. If you're in the area and ready to take your property to the next level, call our team at (402) 590-2040 today and schedule our landscaping services!