Landscaping Services for Properties in Omaha, Elkhorn, Gretna, NE & Nearby Areas
Our landscaping services are designed to help your plants thrive!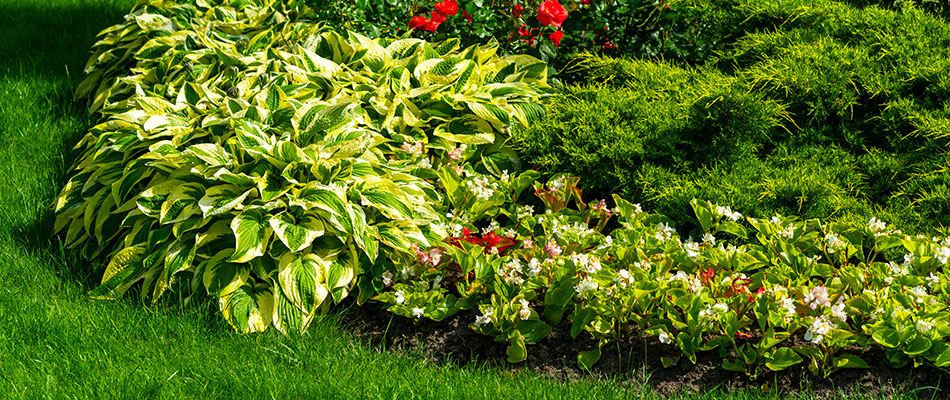 At UPL Inc, we care about the appearance of your landscape, which is why we dedicate our time and talents to offering exceptional landscaping services. Our team can renovate your landscape, install outdoor lighting, provide drainage solutions, trim and prune your plants, add mulch and rock ground coverings to your landscape beds, and perform spring and fall cleanups. Each service is designed to help your landscape thrive. Our services are available in Omaha, Elkhorn, Gretna, NE, and throughout the surrounding areas.
---
Landscape Renovations
Our landscape renovations service is a great opportunity to rejuvenate your landscape beds with vibrant colors and new life! We'll help you choose flowers that best suit your preferences, including hibiscus, green velvet boxwood, wildberry coneflower, and more! We can also install beautiful trees, such as Taylor juniper, beech prairie fire, and autumn blaze maple trees. These plants will breathe newfound life and color into your landscape beds and become beautiful focal points on your property.
---
Outdoor Lighting
Illuminate your property at night and highlight focal points on it with our outdoor lighting service! We use long-lasting, energy-efficient LED bulbs for our outdoor lighting. We can also highlight desired areas of your outdoor living space by utilizing different lighting techniques, and you can control them with an app on your smartphone; this allows you to turn them on and off with the touch of a button.
---
Drainage Solutions
While drainage issues can be stressful, they don't have to be! We offer several drainage options to solve these issues, including downspouts, french drains, catch basins, rain gardens, and dry creek beds. When you sign up for our drainage solutions service, we'll work with you to choose the best option for your particular property.
---
Plant Trimming & Pruning
Plants grow a lot each year, and the growth that they experience can either be optimal or can quickly turn into overgrowth if they are not maintained with a routine trimming schedule. Our trimming service focuses on helping reduce the overgrowth of your plants. This eliminates crowding and encourages an even distribution of air and nutrient flow. A good trim will always give your property a boost in curb appeal!
Along with trimming, we can also prune your plants for health purposes. We begin pruning by first taking note of the health of your vegetation. If we find areas that are dying or fighting a disease or insect infestation, we'll prune those areas back to stimulate healthier growth long-term.
---
Mulch & Rock Installation
Mulch and rock are ground coverings that offer tremendous benefits for your plants. They can reduce soil erosion, discourage weed growth, and insulate your soil. We offer our mulch and rock installation service because we believe that installing a ground covering in your landscape beds will help preserve the longevity of your plants. Our ground coverings come in a variety of different colors and selections, and we recommend that you schedule this service yearly to replenish your mulch or rock with an updated supply.
View Mulch InstallationView Rock Installation
---
Spring Cleanups
Our spring cleanups involve a wellness check of your plants before trimming and pruning them. We can blow debris out of your landscape beds and reshape them. If necessary, we will add fertilizer. We can also replenish the mulch in your landscape beds and install flowers if you would like.
We can tailor your spring cleanup to your specific needs and can also include services such as soil monitoring and washing down your driveway and sidewalk.
---
Fall Cleanups
Our fall cleanups will prepare your landscape beds for winter. Our team will blow the leaves out of your landscape beds and then redefine their shape. We will also assess your vegetation for routine trimming and pruning needs and can add fertilizer to your landscape beds if necessary. You may also opt to have spring bulbs installed in your landscape beds during this visit.
---
Call us today to schedule any of our landscaping services!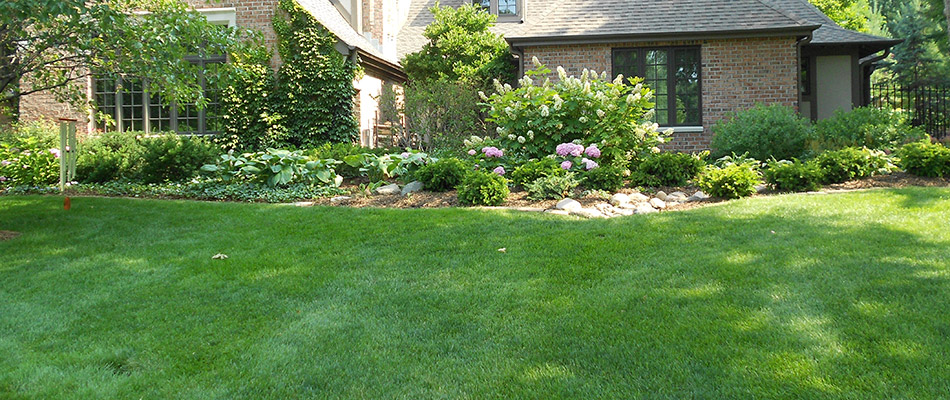 We offer professional landscaping services to keep your property looking its best throughout the year. Our landscaping services are available in Omaha, Elkhorn, Gretna, and nearby areas in Nebraska. Give us a call today at (402) 590-2040 to schedule any of our services.