Our clients in Elkhorn, NE, reached out to us during the construction of their home in Westbury Farm. This was an ideal time for them to talk with our landscape design team at UPL Inc, as they could work with us and their builder to solve problems on their landscaping project before they even arose. With the open space around a new build, materials can be staged, larger equipment can access the site, and materials can be delivered directly to the installation point. Since our clients contacted us when they did, we were able to complete their landscaping project before sprinklers and sod went in, saving them money.
While dreaming of their new outdoor living space, this client wanted a larger-than-normal fire pit, seating wall, and lounge area. They also wanted drink tables, a dining area, and space for a hot tub, in addition to landscape plantings and landscape lighting. Our team was able to provide all they asked for. After meeting with them to listen to their goals, we devised a plan to transform their backyard into their dream oasis. We installed their patio using high-quality materials, added a breathtaking fire pit with a semi-circular seating wall, and installed pillars around their deck posts. Then, for the finishing touches, we added plants and landscape lighting. Continue reading to learn more about this spectacular landscaping project!
---
We installed their patio using long-lasting, stunning materials.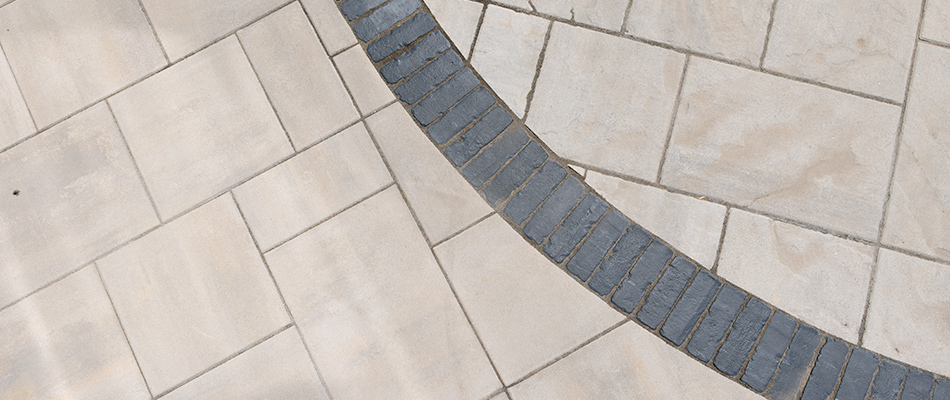 Installing our client's patio was the first step of this project, as it would act as the foundation for the rest of the outdoor living space. We had designed it to provide everything they wanted, including a dining area and a designated space for where the fire pit and seating wall would go. We even worked with their house builder to pour a concrete slab for the hot tub!
We used Unilock Beacon Hill smooth pavers in a fossil color for the patio. Then, we used Unilock Copthorne in a basalt color for the banding. We wrapped this banding around all the patio edges and cut it in a circle to form the fire pit area. We also created a "rug" at the door for a special touch. These materials are stunning, and our clients can enjoy them for years to come.
---
Next, we installed a fire pit with a semi-circular seating wall to match.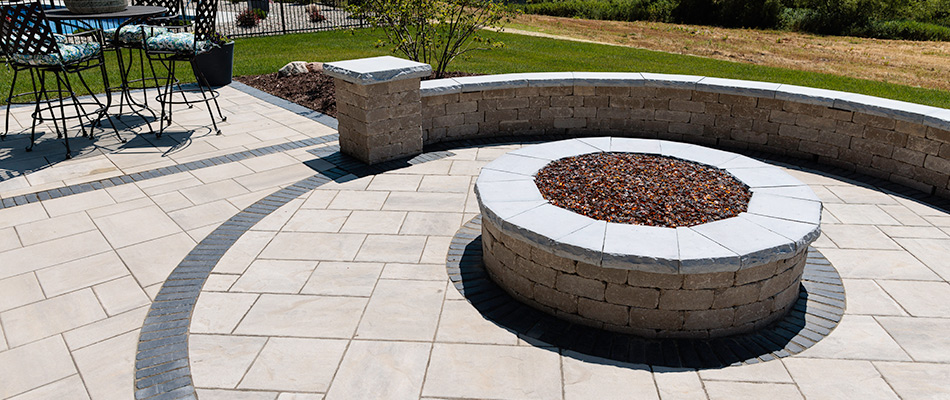 Once the patio was complete, the next step was to install the fire pit. Our clients wanted a larger-than-normal fire pit, so we made it extra wide at a 55" interior dimension. For the block, we used Unilock Old Quarry in a sandstone color. We also chose amber fire glass as the media around the burner.
We installed a semi-circular seating wall around the fire pit and used a matching block to create a cohesive look between the two features. Then, we used gray Unilock Ledgestone coping for the top, where people can sit, and built pillars on each end.
Fire pits can either be wood-burning or gas-burning. Both of these options come with unique benefits!
---
The last step was to install pillars around the deck posts and add the finishing touches to this project.
The last step of this project was to install pillars, so we wrapped their deck posts with materials that match the seating wall for a more uniform flow between the spaces; these pillars are tall enough to act as drink tables. Then, we added plantings around the house to soften the area and provide much-needed color. We also installed landscape lighting around the property, using under-cap lights for the seating wall, pillars, and post wraps. We used path lights at the end of the patio and in the front yard, then included spotlights in the trees. These finishing touches bring together this outdoor living space, providing our client with a beautiful oasis.
---
Project Gallery
---
Do you want a fire pit, patio, seating wall, columns, or other hardscapes added to your property? If so, give us a call today!
At UPL Inc, we can help you transform your outdoor living space into your dream oasis. We offer various hardscape installation services, including patios, seating walls, fire pits, columns, and more! We offer our services to property owners in Elkhorn, NE, and the surrounding areas, including Omaha, Elkhorn, and Gretna. Give us a call today at (402) 590-2040 to schedule a consultation for any of our services!