When our clients in Ashland, NE reached out to us, they were looking for a way to enhance their outdoor living space. They had a large backyard, but it was bare and needed some work to make it a great place to spend time with family and friends. After meeting with them to listen to their goals, we came up with a plan to transform their backyard into their dream oasis. We decided to install a patio that would act as the foundation for their outdoor space. Then, we would install a fire pit to provide them with a feature that was both beautiful and would give them a place to gather around with their loved ones. After that, the plan was to install a seating wall around their fire pit to provide them and their guests with convenient, built-in seating. The last step of this project was to install columns around their balcony posts to create a cohesive look that would tie their entire project together.
---
We used high-quality pavers to install their patio.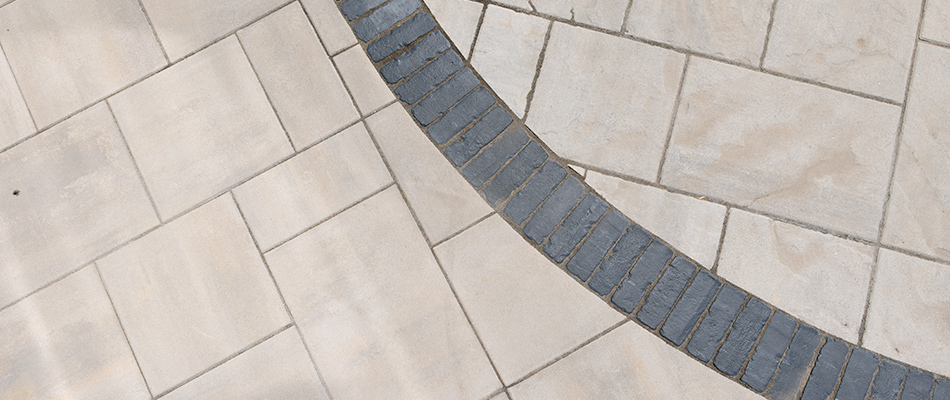 The first step of this project was to install their patio. First, we removed the existing grass where the patio would go and then prepped the area. Once that was complete, we got to work installing the patio and we used high-quality pavers that our clients had picked. We installed these pavers using a unique pattern that really made the patio stand out.
To add some contrast to the patio and enhance its beauty even further, we installed black pavers around the border of the patio, around where the fire pit would eventually go, and across the patio to create a distinct line between the fire pit area and the other part of their patio.
---
We installed a beautiful fire pit and a matching seating wall.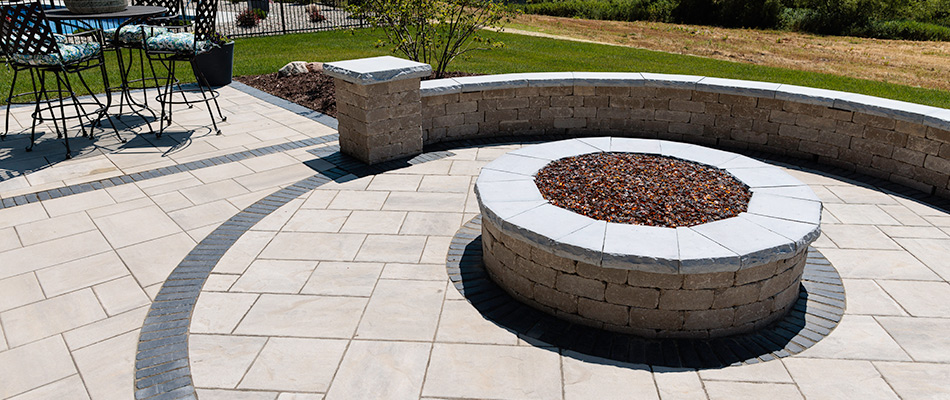 Once their patio was complete, we got to work on their fire pit and seating wall. First, we installed a large fire pit on their patio that would become the focal point of their outdoor living space. We used bricks to build the base of the fire pit and then used a custom cap on top of the fire pit to take its beauty to the next level.
After the fire pit was complete, we surrounded it with a beautiful seating wall. We used the exact same materials for the seating wall that we used for the fire pit to create a cohesive look.
Seating walls are beautiful features that provide built-in seating for you and your loved ones!
---
The last step of this project was to install columns around the balcony posts.
Our clients have a balcony that overlooks their backyard, and the balcony posts run down into the patio area. To enhance the aesthetics of these posts, we installed columns around them. To do this, we used the same bricks and custom caps that we used for their fire pit and seating wall to tie the entire project together. Lastly, we installed the same black pavers that we used on their patio around the base of the columns to create a distinctive border that made the columns stand out even further!
---
Project Gallery
---
Are you looking to have a fire pit, patio, seating wall, columns, or any other hardscapes added to your property? If so, give us a call today!
At UPL Inc, we can help you transform your outdoor living space into your dream oasis. We offer a variety of hardscape installation services including the installation of patios, seating walls, fire pits, columns, and more! We offer our services to property owners in Ashland, NE and throughout the surrounding areas including in Omaha, Elkhorn, and Gretna. Give us a call today at (402) 590-2040 to schedule a consultation for any of our services!