Today's choices for landscape lighting are vast. Landscape lighting can emphasize a building's architecture, provide light for safety, or give your outdoor event a wow factor. Developments in color-changing technology have changed the way your home can look after dark. You have total control over the colors you see, the brightness of each fixture, and the color theme you want to create at different times of the year.
At UPL Inc, we install color-changing landscape lights at homes and businesses in the Omaha, NE, area. We use FX lighting systems that utilize low-voltage LED bulbs and are designed to give you total control over how your outdoor space looks at night. These systems can be operated from your phone and can be programmed to turn on and shut off at certain times. When it comes to placement, we can install our color-changing lights wherever you would like on your property. Continue reading to learn more about our color-changing landscape lighting!
---
What type of color-changing lights do we use?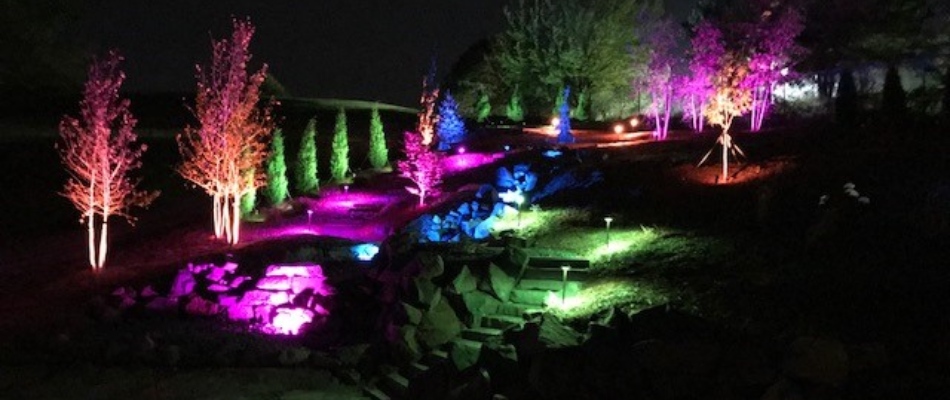 At UPL Inc, we use a brand of landscape lights called FX. All of their fixtures have low-voltage LED bulbs that are long-lasting and energy-efficient. They have simple white lights, white lights that are able to be zoned and dimmed, and full-spectrum lights that are color-changing. The color-changing option has become more popular recently. In fact, many of our clients use them as their Christmas or holiday lighting.
Outdoor lighting makes your property safer and easier to navigate once the sun has set.
---
How do our color-changing landscape lights work?
Our color-changing landscape lighting system is simple. A standard exterior outlet is needed to plug the low-voltage transformer into. A strong Wi-Fi signal is needed as well. A low-voltage wire is then run from the transformer to each fixture. The fixtures are programmed (or assigned) a number before installation, and then the transformer sends a signal to each fixture based on what has been programmed. The whole system can be run from the transformer or an app on your phone.
A built-in location marker is set so that the transformer knows the timing of sunrise and sunset at your home. This helps in programming the system to tell it when to turn on and shut off. A built-in calendar can be set ahead of time so that you can have your favorite sports team colors come on each game day. Preset themes can also be set for holidays. With the new cloud feature, you can change the themes from anywhere you have an internet connection.
You can show your Cornhusker pride by lighting up your property red and white for University of Nebraska football games!
---
Where do we install our color-changing landscape lights?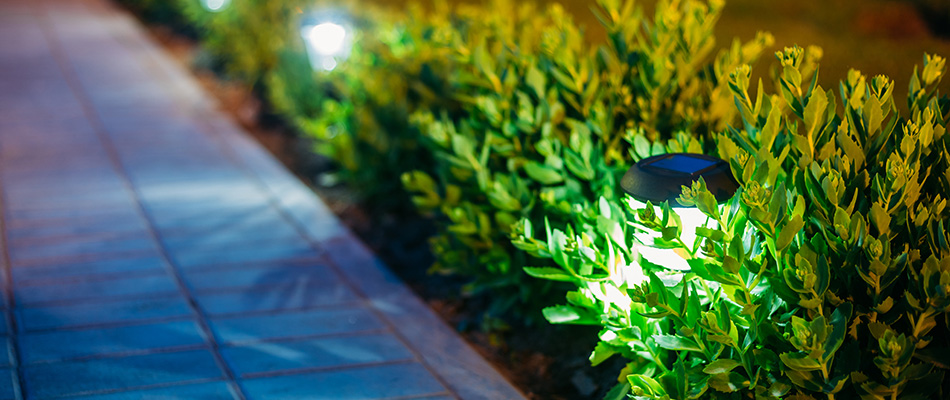 We can install our color-changing landscape lights on any part of your property. We are able to install lights along your driveway, walkways, and landscape beds. We can also install them in the ground with your pavers, next to the walls of your home, or on the columns of your front porch. If there is an area of your property where you want landscape lights, then we can put them there.
---
Call today to schedule our outdoor lighting service!
Do you want to add beautiful outdoor lights to your home or business? If so, then we can make your dreams come true. At UPL Inc, we offer our outdoor lighting service to residential, commercial, and HOA properties in Omaha, Elkhorn, Gretna, and nearby cities in Nebraska. Our team installs color-changing and traditional white LED lights that are durable and energy-efficient to illuminate your property at night. When installing your landscape lights, we are able to utilize a variety of lighting techniques, such as simple highlighting, path lighting, and wall washing. Don't waste any more time. Call us today at (402) 590-2040 to see how we can install a color-changing landscape lighting system at your property!