Our clients in Omaha, NE, were looking to renovate their outdoor living space when they reached out to us, which only had a poured concrete wall and unlevel limestone steps that led nowhere. They wanted to make their existing space more functional and extend it to add a fire pit with a seating area and an outdoor kitchen. They also requested it lead to a designated spot, where they put a basketball hoop and trampoline. So, our team got to work bringing their backyard transformation to fruition - first, we added a paver patio with a retaining wall to define the space and provide the perfect spot for where the fire pit and seating area would go. Then, we installed their outdoor kitchen underneath an overhang and used top-quality materials that matched the rest of the project. Finally, we added landscape lighting, plantings, and artificial turf to soften the space and provide color.
---
First, we renovated their existing area to add a paver patio with a fire pit.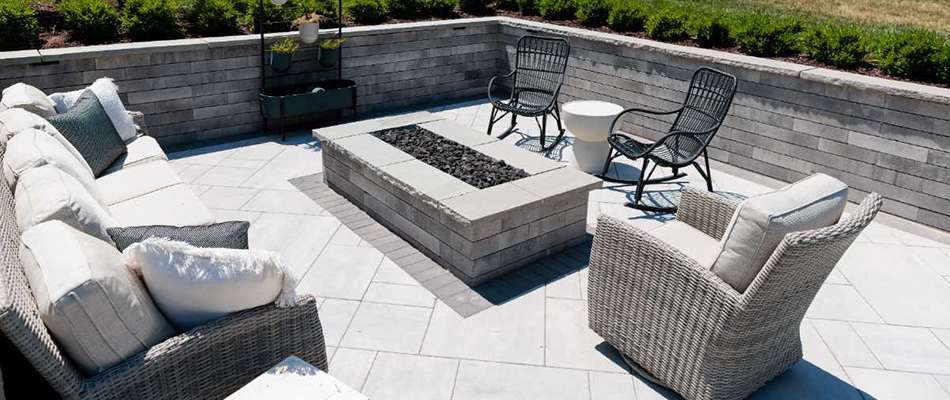 The first step of this project was to renovate their existing area. So, we cut out and removed part of the poured concrete wall to open up the space. Then, we added a new retaining wall using granite-colored blocks. This wall is multi-level to partially hide their hot tub, retain the planting area we'd install later, and hold the side of the steps that lead to the patio. Meanwhile, the upper portion of the retaining wall defines the lounge area, which we got to work on next.
We used pavers that are as beautiful as they are durable for the patio, which is where our clients wanted a fire pit. We built the fire pit from blocks that match the retaining wall, and while we raised it above the ground, it's still below the height of the wall to protect it from the wind and to add some privacy from the neighbors. Finally, our clients have a well-defined space where they can sit and enjoy a cozy ambiance by the fire! What's more, we added additional steps that lead to a separate area, which now serves as a basketball court and trampoline site.
---
Then, we constructed their outdoor kitchen using matching materials to create a cohesive look for the space.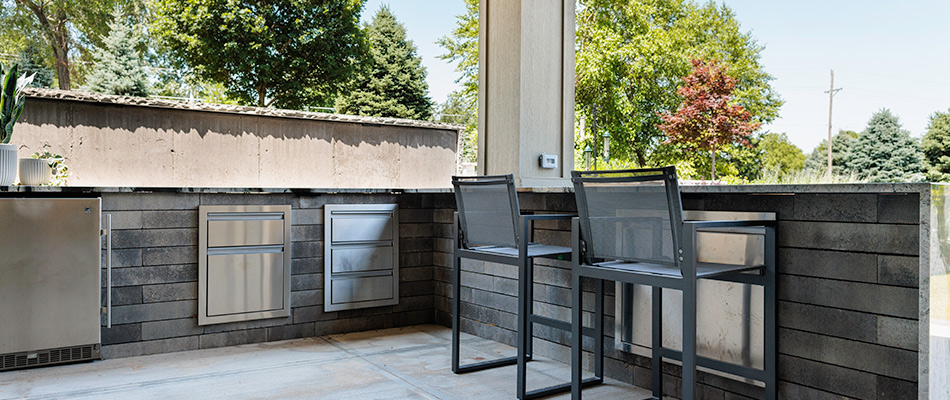 The next step of this project was to install their outdoor kitchen, which would go underneath an overhang of the house for shade and protection from the elements. We constructed the outdoor kitchen using matching block materials to create a cohesive look for the space. Then, we equipped it with three drawers for storage and two for a trash pullout, a refrigerator, and double access doors. However, that's not all - what makes this kitchen special is the waterfall edge on the granite countertop we installed, which spills over the side. This design element is one of the first things you notice from the house and is quite stunning.
An outdoor kitchen can come with amenities that make it functional for you, including grills, refrigerators, wine coolers, ice makers, and more!
---
Finally, we put the finishing touches to this project with landscape lighting and plantings.
Once the main renovations were complete, the final step was to put the finishing touches on the project. We included landscape lighting on the walls and in the outdoor kitchen to brighten the space at night. Then, we installed plantings to soften the space and add pops of color. That way, the hardscapes blend seamlessly with the rest of the landscape for a comprehensive flow between these different areas.
---
Project Gallery
---
Schedule Our Hardscape Installation Services to Transform Your Outdoor Living Space
At UPL Inc, we can install various hardscapes to transform your outdoor living space, from fire pits and outdoor kitchens to paver patios, retaining walls, and much more! Whatever you choose for your property, we'll ensure it becomes an equally functional and aesthetic addition.
We offer our hardscape installation services to residential, commercial, and HOA properties in and around Omaha, NE, including Elkhorn and Gretna. Call us at (402) 590-2040 to schedule any of our services today!