When our client in Omaha, NE, reached out to us, she wanted to create a unique outdoor space that felt cozy for intimate gatherings but expansive enough to host upwards of 25 people comfortably. She also wanted it to feel old, like her house, and use mixed materials. Every once in a while, we get a client who allows our creative imaginations to run wild. Fortunately, that's what happened with this project! We visited the site and gathered information on her preferences, which we later implemented during the design process. We had to work with the grade of the property and existing features, like a retaining wall and a set of steps. However, we devised a plan to accommodate this, plus everything our client wanted, with a 3-tier patio. Each tier has a purpose, and we constructed the space with various eclectic materials to add the flair our client wanted.
---
First, we visited the site to discuss our client's preferences and create a design that would fit in with the existing space.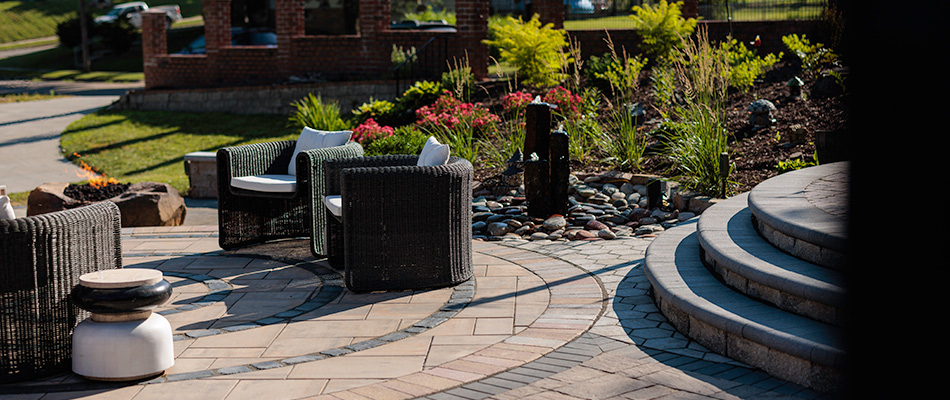 The first step of this project was to visit the site and discuss our client's preferences for her new outdoor space. Upon gathering this information, we created a design that would portray her personality while also fitting in with the existing area. For example, we had to work with the grade of the property. We kept a set of steps at the top and left an existing brick retaining wall. The cobblestone-covered house had an eclectic mix of brick and decorative concrete moldings built in as well.
---
Next, we constructed a 3-tier patio and fire pit using different eclectic materials.
Once the planning stage was complete, we moved on to construction. Because our client wanted to accommodate different sizes of gatherings, we split up the space into three circle patios at three different levels. The first level is at the base of the steps and has ample furniture. Meanwhile, the second level is the same height as the back door to allow room for entering the house from the parking area. For the bottom level, we installed a fire pit and seating wall.
We constructed the entire space from 15 different Unilock products to continue the eclectic use of materials from the house. We arranged them so that the colors in an area complement each other, though each level has a specific color wheel. For example, the bottom circular patio has a clash of modern plank-style pavers against natural flagstone. The fire pit was sculpted from a natural boulder to add the illusion of it having been there for a long time.
A patio can be built from materials that best flatter your aesthetic preferences, including porcelain, pavers, flagstone, and more.
---
Finally, we installed plantings and landscape lighting to tie their outdoor space together.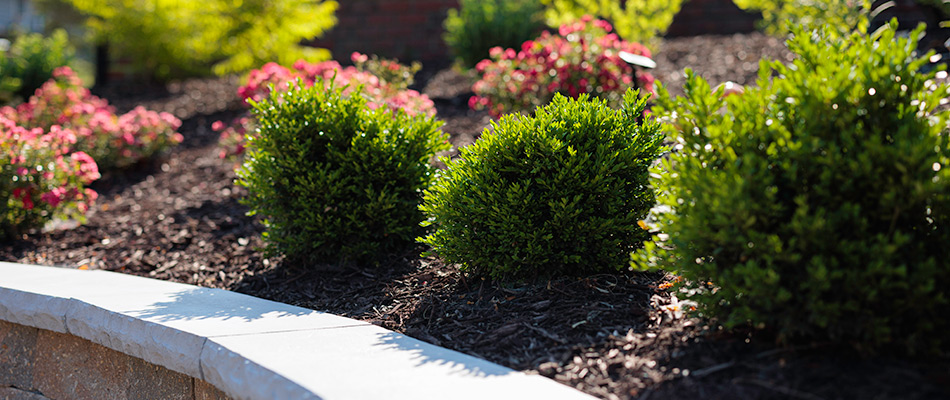 The final step of this project was to install colorful plantings around the outside of the patio, which now accentuates the client's fairy house collection. We also hung landscape lights from wood posts to give the outdoor living space a warm glow after dark. There is even a dedicated space to her life-size cow sculpture! Having creative freedom during this project allowed us to create something that emulates her unique, eclectic style while keeping it functional for her lifestyle.
---
Project Photo Gallery
---
Are you looking to enhance your outdoor living space? If so, schedule any of our hardscape installation services today!
If you want to enhance your outdoor living space, we're the ones for the job! Our team at UPL Inc can install various hardscapes for your property, from patios and fire pits to seating walls and much more! You can trust that we'll create your dream space for you to enjoy for years to come.
We provide our services to property owners in and around Omaha, NE. Call us at (402) 590-2040 to schedule any of our hardscape installation services today!